Company overview
Started in 1993, MART has emerged as a leading Knowledge based consulting firm on Emerging Markets. We work with global businesses, governments and donor agencies to help them take right directions in these ever-so-growing markets. Our expertise lies in understanding the Emerging Markets and Base of the Pyramid (BoP) segments, their eco system and dynamics.
Our Vision and Mission
Our Mission: To enable the poor in emerging markets improve their quality of life, by delivering
innovative, high value, end to end solutions through our partners.
Our Vision: To become the most respected consultancy firm in the emerging markets, creating
innovative and effective solutions in the sectors of our focus.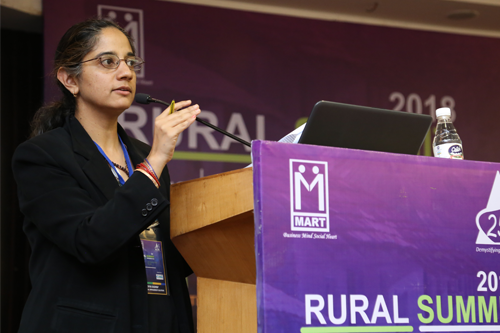 Divya Kashyap
Practice Lead Events and Communication
Divya, a management graduate with specialization in Human Resource Management from the Institute of Management Technology, Ghaziabad, has over a decade of experience with organizations like Oracle, Whirlpool, India Today, Aga Khan Foundation, UNICEF and PLAN Canada.
Our Journey
Started by Pradeep Kashyap in 1993 when rural marketing by the poor and to the poor was a black box MART has emerged as a leading knowledge based organization with global footprint. We partner many Fortune 500 companies, International donor agencies and government. Openness to adapt, flexible mindset and passion to drive new concepts have made our journey rewarding and exciting.
In the 1990s MART was the first rural marketing consultancy firm in the country, focusing on the social/development sector, creating large scale livelihoods for the rural poor in partnership with some of the big international NGOs and donor organizations.
In 1997 we undertook a large survey for World Bank to identify large scale livelihood opportunities in 1100 villages and 186 haats (periodic markets) of Uttar Pradesh, India. We also undertook the first ever National study on Haats and Melas that has became a reference document for marketers.
We developed the '3M Approach' for generating large scale employment in rural areas.
During this period the corporate sector started eyeing the growing rural market' MART co-created its game changing rural models with several Fortune 500 companies.
In 2000, MART and Hindustan Unilever co-created 'Project Shakti' to reach products in smaller villages by appointing women from Self Help Groups as dealers. Another 'last mile distribution' model utilizing rural youth was successfully implemented with Colgate and later with telecom, FMCG, ICT, Insurance and health sector companies.
Our deep knowledge of the rural markets was comprehensively captured in the 'Rural Marketing' Book authored by our CEO in 2005.
MART moved to the next orbit, taking   leadership position in the emerging markets knowledge space and linking with firms in US, Europe and Japan.
Our initiatives included developing the ICT model for Grameenphone in Bangladesh; formally introducing the subject of rural marketing in the business schools of Bangladesh; revamping the distribution model for a USAID funded organization in Nepal; conducting rural marketing workshops in Malaysia; and building knowledge partnerships and strategic alliances with world class academic institutions like INSEAD, University of Illinois and Cambridge University.
We ventured into Innovation – Our CEO, Pradeep Kashyap was invited to share MART 's experience at a Global CEOs Innovation event in Paris. We developed our '3i Innovation Framework'; and introduced the concept of 'Inclusive Marketing' to the world.
Partnerships and Associations
Rural is complex ecosystem with manifold problems, it needs a plethora of minds and efforts to get to the solutions. MART therefore believes in delivering solutions through a collaborative partnership mode, which means we are good to engage with organizations having expertise and want to do good for the society. Our partnerships are based on the objective of increasing the knowledge base on low-income markets and providing end to end services to our clients. MART enjoys partnerships with a number of entities across the globe.
GLOBAL ASSOCIATION
1. Swiss Contact, Bangladesh
Swiss Contact is responsible to promote economic, social, and environmental development by helping people to integrate into local economic life hence improving the living conditions of the poor through their own initiatives.
MART became the Knowledge Partner of the event on 'Innovations at BoP, doing good by doing well', organised by Swisscontact, Bangladesh.
2. CHANGE, Japan
Change.org exists to empower people everywhere to create the change common people want to see.
The partnership aims at creating sustainable business solutions to impact lives of poor in India and spread the knowledge on BoP among industries in Japan.
3. TMSS, Bangladesh
TMSS is a women-oriented leading Bangladeshi organization working for alleviation of poverty, empowerment of women, improvement of socio-economic infrastructure, and a society with capabilities to cope with the advances in information and communication technology (ICT) in Bangladesh.
The partnership aims at leveraging each other's strengths to meet the initiatives of MART's Eye Mitra Project in Bangladesh for Essilor International.
ACADEMIC ASSOCIATIONS
1. Great Lakes Institutes of Management, India
The Great Lakes Institute of Management is a private business school in India and is considered to be among the top institutes in India for management studies.
The partnership aims at exploring joint initiatives to create sustainable business models for the BoP entrepreneurs.
2. Birla Institute of Management Technology, India
The Birla Institute of Management Technology is a postgraduate business school established in 1988 with a vision to develop ethical leaders with entrepreneurial and global mindset striving for sustainability and inclusive growth.
The partnership aims at exploring joint initiatives understanding creating sustainability champions and understanding the ecosystem in India. MART and BIMTECH have jointly pioneered a course on Sustainable Business Models (A B-School Module aiming to create Sustainability champions)
3. University of Illinois, United States of America
The University of Illinois is a public land-grant research university founded in the year 1867.
The partnership aims to understand and gain insights about post-harvesting issues and solutions in India.
4. Xavier Institute of Management, Odisha, Bhubaneswar
Xavier Institute of Management is a prestigious Indian Business School located in Bhubaneswar. The institute is ranked 16th among India's top B-Schools – overall by the BW Business World B-Schools Ranking 2019.
The partnership aims at exploring joint initiatives to impact lives of poor in India.
NATIONAL ASSOCIATION
1. Rural Marketing Association of India
Rural Marketing Association of India (RMAI) is a premier industry body devoted to furthering the cause of rural marketing. With a base of more than 70 companies RMAI, forms a common platform towards recognition, credibility and meeting of needs of the Rural Marketing industry.
The partnership aims at leveraging the industry practices in rural marketing.
2. Economic Information Technology
Economic Information Technology is a boutique research firm based out of Kolkata having expertise in primary and secondary research in healthcare domain. The firm is also engaged in different activities relating women empowerment across the country.
The partnership aims at leveraging each other's strengths to conduct research and build Strategies for Sustainable Value in Healthcare domain.
MEDIA ASSOCIATIONS
1. The Economic Times
The Economic Times is an English language Indian daily business newspaper focuses on the Indian economy, international finance, share prices, prices of commodities as well as other matters related to finance.
The partnership aims to leverage the work potential in the rural communication domain.
2. NDTV
New Delhi Television Limited (NDTV) is a television media company headquartered in India
having global footprints in Indonesia, Malaysia and Middle Eastern countries.
The partnership between MART and NDTV aims to leverage the work potential in the rural
communication domain.
Awards and Recognitions
| Year | Description of award | Gold/Silver/Bronze | Awarding agency |
| --- | --- | --- | --- |
| 2016 | MART Mas | Gold Award | RURAL MARKETING ASSOCIATION OF INDIA – Flame Award Asia 2016 |
| 2016 | PI Abhiyan "Uttam Kheti Samridhh Kisan" | Bronze Award | RURAL MARKETING ASSOCIATION OF INDIA – Flame Award Asia 2016 |
| 2014 | Marico 10 ka Dum (Brand Association with Traditional Congregation Platform) | Gold Award | RURAL MARKETING ASSOCIATION OF INDIA – Flame Award 2014 |
| 2014 | Marico Pragatisheel Parivar (Use of Technology) | Silver Award | RURAL MARKETING ASSOCIATION OF INDIA – Flame Award 2014 |
| 2014 | Hybrid Model of distribution for low Income Market (Last Mile Distribution) | Silver Award | RURAL MARKETING ASSOCIATION OF INDIA – Flame Award 2014 |
| 2014 | Rural Outreach program (Integrated Campaign) | Bronze Award | RURAL MARKETING ASSOCIATION OF INDIA – Flame Award |
| 2013 | HPCL Rasoi Ghar campaign of the decade | Silver Award | RURAL MARKETING ASSOCIATION OF INDIA – Flame Award 2013 |
| 2013 | JK Lakshmi (Small Budget Campaign of the Year) | Bronze Award | RURAL MARKETING ASSOCIATION OF INDIA – Flame Award 2013 |
| 2013 | Novartis Arogya Parivar (Social Development Campaign of the Decade) | Gold Award | RURAL MARKETING ASSOCIATION OF INDIA – Flame Award 2013 |
| 2012 | Project Asha, Pepsico-2012 | WOW Silver Award | In the category "Rural Engagement Program of the Year |
| 2010 | Collective Marketing to create social impact | Silver Award | RURAL MARKETING ASSOCIATION OF INDIA |
| 2009 | Arogaya Parivaar, Novartis | WOW Award (Silver) | In the category Best rural marketing initiative" |
| 2008 | Best long term rural marketing initiative for Arogaya Parivaar | Silver Award | RURAL MARKETING ASSOCIATION OF INDIA |
| 2006 | Establishing "RasoiGhar" (community Kitchen) model in Rural India – 2006 | Special Jury Award | RURAL MARKETING ASSOCIATION OF INDIA |
| | For best Integrated Initiative using ATL/BTL for "Developing Rural Markets" – J K Lakshmi | Silver Award | RURAL MARKETING ASSOCIATION OF INDIA |