Innovation
Emerging economies today are new growth markets and innovation hubs. Western economies have realized the potential of innovation in these markets and are tapping into it already. However, innovation in the emerging markets is not about being niche or sophisticated but about cost-effectiveness and mass-appeal. Products have to be redesigned as incremental changes to an existing product or service, to tailor it to local needs, will not work. Also, the understanding of affordability is very different in these markets as compared to more developed markets.
We believe that solutions to any problem lies within the problem and hence if a consumer has a problem, in many cases they have already created some sort of crude solution that one can build on. So innovation needs to be a 'bottom up approach' which MART has adopted very well.
MART's focus on innovation in this new paradigm is on
Addressing Affordability
Cost effective delivery of products and services
Use of social infrastructure for process innovation
Sustainability through community co-creation
Maximizing outputs with minimum resources
Our Differentiators
We believe that innovation needs to be approached at 3 levels – Product, Process and People and any innovation in low income market would sustain if it is co-created with consumers. Based on our decade long experience of innovating products and processes in low income markets, we have come out with a comprehensive framework for Innovation – the 'MART 3i Innovation Framework' – Inquiry, Immersion and Implementation. The basic framework is captured in the diagram below.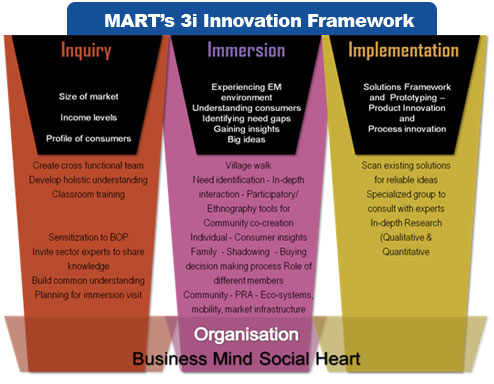 click here to download a note on 3i Innovation Framework
Most companies are focused around product innovation but there is a lot of value locked up in processes whether these are business processes, marketing processes, or communication processes. However, the need for Process Innovation in low income markets has been undermined and the efforts are mostly around product innovation. MART brings specialized knowledge and credible experience in designing and delivering innovative business processes to connect the last mile. MART believes in co-creating innovative processes by involving community and sustaining the process by leveraging existing social infrastructure.